Friday, December 1st we flew to Lawa. The people were glad to see us again. The next Monday we received friends from the Netherlands, who were also missionaries in Suriname in the eighties and nineties. They only came for three days but we enjoyed their company and they enjoyed the beautiful view from our house, nature, seeing our life with the Wayana's. Of course we went to Maripasoula by canoe, which was a joyful trip.
That weekend 5 canoes went downriver to visit Kayode. Since we just returned from the Netherlands we didn't want to go with them for the whole weekend, but we went early Sundaymorning. Marco was invited to bring the message from Gods Word. We enjoyed being there and seeing the growth of the body of Christ in Kayode. Their building is beautiful, but like the other new churches, not finished yet. When they have again enough money they will continue building bit by bit.
CAMA in the Netherlands asked us to take a 360 degree camera with us to take footage for a promotion video they want to launch during the conference at Pentecost weekend. It took quite some time to learn all the features of this camera, but now Marco knows how to use it well. We used the opportunity to make some videos ourselves and post them on Facebook. In the following link you can see the churchbuilding of Kayode in a 360 video Church Kayode
Last week Alampia came over for his early morning cup of coffee and some crackers. His sight is getting so bad that he can't read his Bible anymore, so when he comes over Marjolein will always read him some verses. This time we read in Luke 1 about the angel Gabriel telling Mary that she would become pregnant by the Holy Spirit and would receive a son. "How did that happen?" asked Alampia. "Did the Holy Spirit come to her as a man? Did they sleep together? A long time ago the Holy Spirit came to me as a Wayana" he said. Well, I never thought about the details of how this miracle of God was performed, so I could not give him an answer. It made me think again about Gods great, great love for us. He sent His only son to earth to be born as a little baby. Jesus left his home, heaven, and all the joy he experienced there behind to become a mortal man.
The last few days we had a lot of visitors. They came to buy clothes and beads and toys. We had 10 stuffed boxes, but after three days only 1 ½ boxes are left. it still amazes me how quickly neatly folded clothes turn into a big heap. It reminds me of the time when our kids were little and we would rebuild the Lego trains and houses at night, only to see them dissembled the next morning.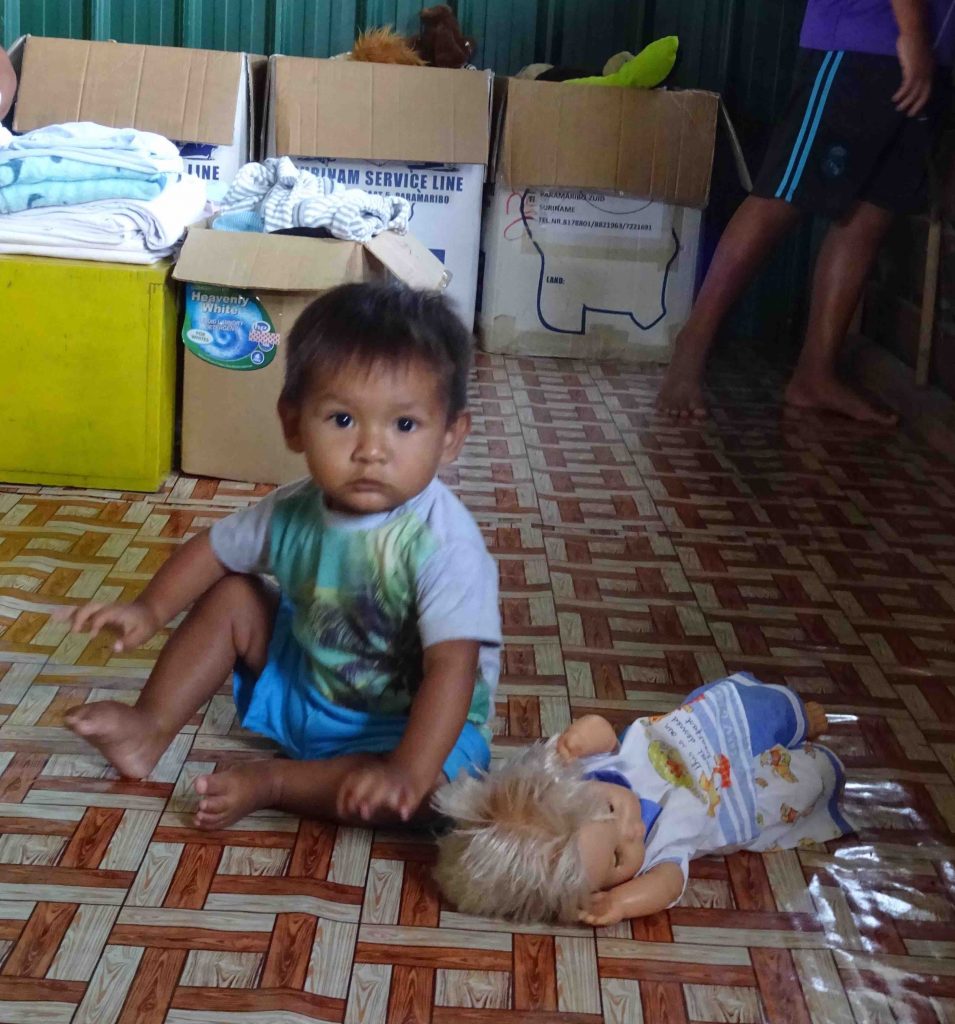 Monday, December 18th , our son Andre, his wife Wimke and their three children will fly in from Paramaribo. We're looking forward to see them! It has been four years since they visited us in Lawa for the first time also in December. A lot has changed in these past years: we know the people and the language better, we now enjoy having internet and mobile reception in Lawa.
The day after tomorrow people will go to Maripasoula to buy icecubes for their freezers to take along during their hunting days for Christmas. They plan to hunt and fish from Wednesday 'till Saturday so there will be enough meat for all the guests who will come for Christmas. This is a matter of praying and trustig that God will give them enough game to shoot.

We wish you all a Merry Christmas.