In February Hanneke Kottier came for a period of 2 ½ months to live with us and the Wayana tribe. She is the youngest daughter of a longtime friend of Marjolein. We enjoy her kind spirit, her love for children, her laughter and her love for our Lord Jesus very much. She assists the headmaster of the local school with teaching some of his topics so he has time for administration etc.
Shortly after we arrived in Apetina John and Kathryn Baak, friends from the Netherlands, came for a three day visit. We immensely enjoyed our talks, canoe trip and prayer time with the sick and a lot more.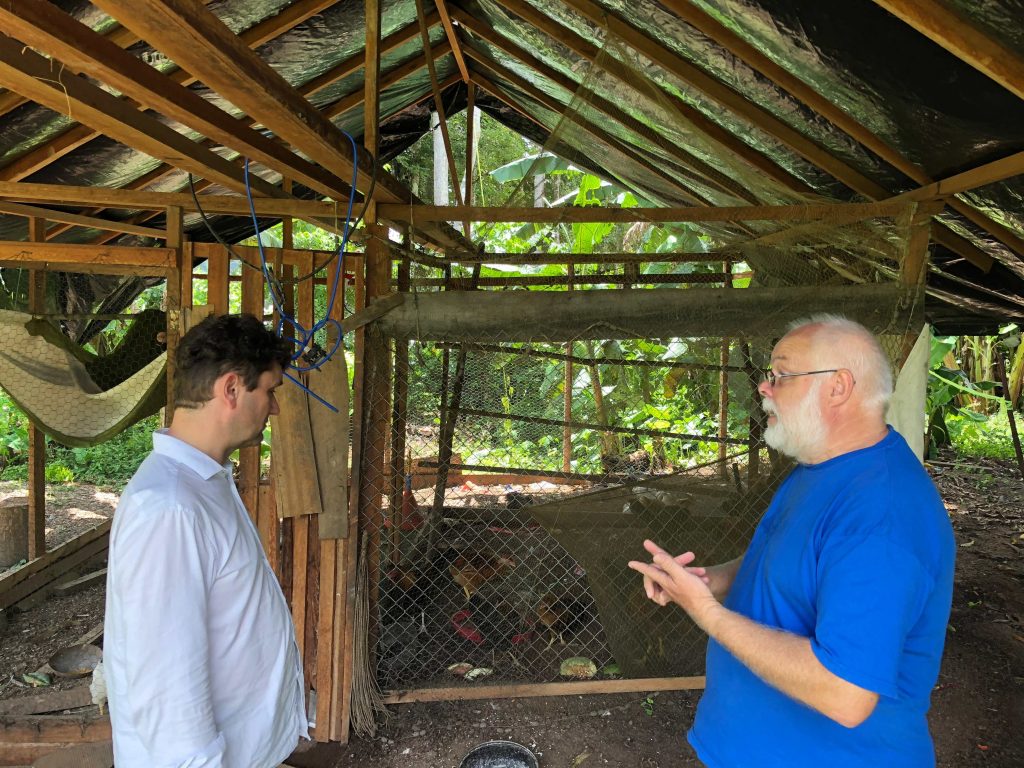 Before they were able to get into the MAF plane to fly back to Paramaribo, Bruce and Julie, two Canadians, got of the plane. Julie, the daughter of Bruce stayed only one week, her father returned to Canada just last Saturday. Bruce came to visit the Wayana tribe because God told him to do so. He had no idea why he should come and meet life in the jungle.
The end of February Jetteke came to visit for a week, after teaching at a bible school in Paramaribo. After Jetteke got of the plane, Marco and Bruce got in to fly over to Lawa and visit the people and see what God is doing there. So in Apetina we had a women's week, while Marco and Bruce had a men's week at Lawa. It was a very blessed week, really a gift from God we really treasure. In the middle of the week we had an outing to the Tebutop. We never climbed such a steep and naked rock, but our great guides pulled us up with their ropes. A swim in one of the rapids was a great cool down moment. An unforgettable day it was indeed.
Marco and Bruce had a special week at Lawa followed by a couple of days in Paramaribo. Bruce left for Canada with a head full of possibilities how he could be of use for the Wayana tribe. Just in the days they were in the city, our youngest grandson Quinn turned two. Very special that grandpa could be at his birthday party and… his new sandbox really needed a bulldozer. Last Monday Marco flew back home to Apetina. With Bruce we look out to our Lord and expect His guidance for the follow up of this visit.
Every time Marco leaves the interior and Marjolein stays behind, one of our 'tech' stuff breaks down. This time it was a little before he left, so Marco could fix our washing machine and a couple of hours later our laundry was hanging on the lines. Sunday night I was charging my telephone and all of a sudden the phone broke down. Marco came late in his hammock that night after he tried several things to make the phone work again. Later in town it appeared a software problem that was easy fixed in the shop. On such moments we have to choose not to let our peace be robbed.
Next to the school the men are working hard to build a building for the women. In our luggage we brought two sowing machines and a spinning wheel we had send from the Netherlands. Now we could show it to the women. We plan to train the women to work the spinning wheel in order to improve their processing of the cotton. After more cotton has been planted they will be able to produce hammocks to be sold to the tourists. In the women center a number of cassava mills will be placed in order to help the women process their cassava more easily. They will also build a number of ovens to improve the backing facilities of cassava bread. The smoke will be led through a smokehouse in order to smoke fish and meat. An ingenuous system as far as we can see, build by a number of 15 men working daily in order to finish the project.
The village is working hard in order to be prepared for the coming Easter Conference. Roofs are constructed under which the guests can put their hammocks. The women are busy backing cassava bread. Next to this we brought 100 kg rice, 50 kg sugar, coffee, thee, onions, garlic etc. in order to feed the people. We expect this again to be a great celebration in which we remember the death and resurrection of our Lord and Savior Jesus Christ.